One of my new years resolutions is to blog more and race more. So here's both. I'll try blog about every race this year.
First Up: The Facts
Table below includes first place, and "friendly" rivals. As you can see I'm at the bottom, so the only way is up.
Pos.	No.	Time		Name
1	445	45.23		Martin Kirwan
6	498	47.46		Tadhg Cronin
13	394	50.21		Paul Ogle
26	412	52.22		Brendan Murphy
32	431	52.56		Aidan Bourke
42	408	53.41		Conor Blackett
77	407	57.22		Tomas Breen
The Opinion Dribble
The duathlon consisted of a 3k run, 16k bike and 3k run. Standard enough distance, and perfect for those getting into the sport. Although I raced last year, this was my first duathlon (have done triathlons and aquathons), so I was unsure what to expect. Running is my weakness currently, so 2 runs legs in 1 race is two too many for me. My goal this year is to improve my running speed and enjoyment, so bring on the challenge.
First run
3k being relatively short, I decided I wanted to push the pace to faster than I would do 5k. This meant trying to get down to 4:00/km which to some is slow, but I usually run around 5:00/km. I managed to keep focused on the first run and came in just under 12 minutes. Sweet. Happy out with that. Now onto the bike.
Bike
Last year I gained a lot of confidence on the bike, so knew what my limits were for 16k. Was full of energy coming out of T1 and passed a lot of people in the first k. Then slowly ate away at the pack for the first 8k. Started to meet people above my level at that stage so only passed 1 person on the second half of the bike. Didn't catch Blackie, which is what I was hoping for, closed the gap on a lot of the better runners tho. Still feeling good coming into T2 (wait for it…). The bike was under 30 minutes, but not much under. The same bike route for the triathlon in Tramore last year was faster for me. I'll have to blame the wind there.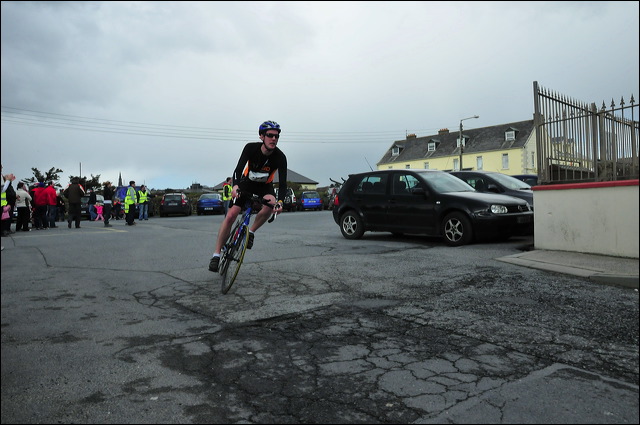 2nd Run
Legs hits the ground off the bike. Jelly!! Bike racked, helmet off, trainers on. Jelly!! "Run through it mossy, get the rhythm going". Jelly!! Experiencing jelly legs is normal enough, and in a Triathlon I can handle it. My swim is strong, and bike is good, so when coming onto the run in a good position I expect to lose a lot of places for the rest. The duathlon is different, first run is okay, and I need to catch up a lot on the bike, so the second run still feels like I should be trying to catch up.
No joy. Jelly!! I think it took about 1k to shake off the jelly legs and get the legs moving, but it wasn't enough to get a good pace. The Second run was 14 minutes.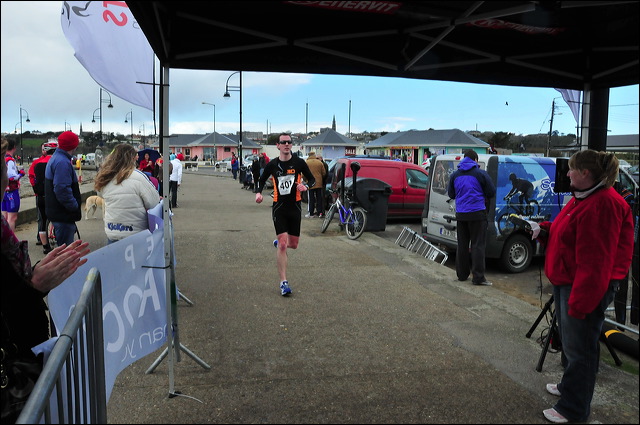 To summize
Happy with my running progress from training over the winter. A lot to do, but getting the early season races in is worthwhile to see how base training is going. Another duathlon this sunday in Naas.